Presentation of Namugongo Division Budget Proposal Fy 2021/2022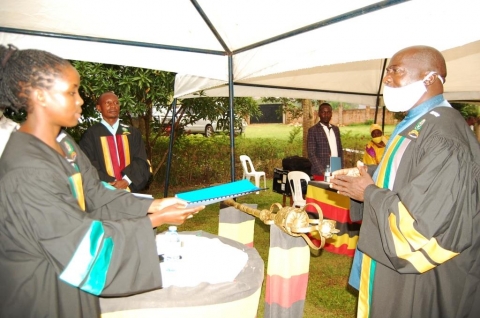 Namugongo Division Budget laying for the Financial year 2021/2022
In line with Article 190 of the   Constitution of the Republic of Uganda, Section 77(i) of the Local Government Act and Section 13 of the Public Finance Management Act which require the Chairperson of a Local Council to cause the preparation of a proposed annual Budget, the Chairperson Namugongo Division Mr. Earnest Gaster Mukasa (also serving as the Minister of Finance, Planning and Economic Development in his Council) has today presented a two billion budget proposal for the financial year 2021/2022.
According to the Chairperson, the Division in the financial year 2020/2021 budgeted to collect and spend sh. 2,261,719,000 (Two billion, two hundred sixty one million, seven hundred nineteen thousand shillings only) over which he is expecting to realize only 87.5% (1,979,978,000- one billion nine hundred seventy nine million, seven hundred nineteen thousand shillings) by the end of the financial year and this is attributed to a number of unforeseen circumstance including Covid 19 outbreak.
Mukasa informed the Council that in the financial year 2021/2022 leaving other factors constant he I expecting to collect and spend sh. 2,328,785,674/ (two billion, three hundred twenty eight million, seven hundred eighty five thousand six hundred seventy four shillings only) out of which 69.6% will be raised locally, 17.2% returns from Kira Municipal Council and 13.2% received from the Central Government in form of Grants.
Having identified the proposed revenue sources, Management and Support services is expected to take the lion's share of 1,265,380,000/ followed by Health and Sanitation with 245,000,000/, Finance and Planning 235, 220,000/, Council Commissions and Boards 219,165,000/, Technical service and Urban Planning 144,372,000/, Gender and Community Based Service 92,718,000/, Production and Marketing 55,712,000/, Education and Sports 38,500,000/, Economic Planning 18,716,000/, Environment 8,000,000/ and Audit 6,000,000/.
Having been laid before the Council as required by the law, the Division Speaker Hon. Nassir Yusuf Nsubuga received the proposed budget and sent it to Committees for further scrutiny so that they can present a report in the next Council for approval.