Kira schools still nursing Covid19 wounds: 102 desks given out to bridge the gap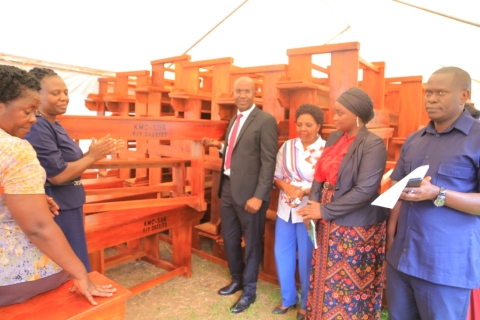 Kira schools still nursing Covid19 wounds:102 desks given out to bridge the gap
As many of the private schools are lamenting of Covid19 depriving them of the good teachers to other sectors, leaving them with much operating costs and decreased enrolment, for the public schools the story is different.
Mr. William Bwambale, the Chairperson Wakiso District Primary Head Teachers' Association also the Head Teacher Bweyogerere C/U primary school in Kira Municipality says that Covid 19 crippled many people financially thus making many of them to transfer their children from private schools to government aided ones thus causing mismatches in so many thing things.  Bwambale says that its true that facilities were never enough but Covid worsened the situation. 'At Bweyogerere C/U we have over 1550 learners, Kirinya C/U and Kamuli C/U over 1700 each but looking at facilities such as classroom space, sanitation facilities and desks there is a mismatch and if the environment and other related conditions are not conducive even the fine output cannot be pleasant'.
This revelation was made at the Municipal Headquarters where Head Teachers and Chairpersons of school management committee of different schools had gathered to receive desks from the Municipal leadership.
Presiding over the function handing over 102 desks, His Worship Julius Mutebi said that it is true that there is still a mismatch as compared to what and how best the education should be for better performance but looking at how he found the situation by the time he came into office there is at least a visible improvement even though much is needed.
'By the time we got into Office we found many children sitting on the flow, congested in class and many of the classes were dilapidated among other challenges but we have managed to provide desks and no child today is sitting on the flow, only that in some schools with big population we still have the ratio of desks to learners at 1:5 and our plan is to have it at 1:3. With class rooms we have also tried to build a two classroom block with an office at each school and this year alone we have built six of them and we are still pushing for more depending on the available resources' said Mutebi
He added on that with support from donors some schools like Kimwanyi UMEA have been completely changed after getting classrooms, library, waterborne toilet, kitchen and basket ball court constructed, improving the image.
Mr. Michael Senkusu, the Municipal Education officer says that his department is doing everything possible to provide schools with the necessary facilities and equipments but they get strained by the budgetary challenges and Ministry policies. 'Looking at the size of land our schools are having and the fact that Kira is urban the sanitation solution is waterborne toilet but the Ministry of Education policy provides for pit latrines. On the matter of structures Kira schools require storied structures for proper utilization of space' he said.
Senkusu urged school management committees to find means of maintaining the furniture provided.
' as you are aware we do not have emergency fund as Municipality and so whence there happen to be an emergence we may not respond immediately to save the situation since there are set processes that we have to go through. But on small issues like breakage of desks Head teachers with the help of School management Committees find means of repairing since there the cost is minimal as compared to buying a new one. But we promise to keep on budgeting appropriately according to the resource envelope'.
By breakdown Kira C/U got 12 desks, Buwaate C/U 10, Kirinya C/U 15, Bweyogerere C/U 15, Bulindo St. Francis 10, Kamuli C/U 20, and Namugongo Girls Primary School 20 desks under the funding of SFG #