KIRA MUNICIPALITY BUYS A RENAULT SPECIALISED GARBAGE TRUCK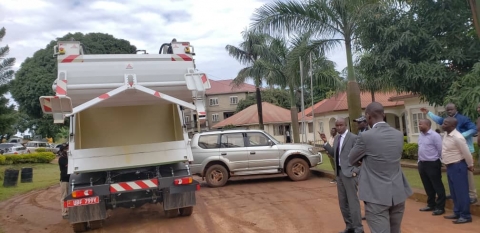 KIRA MUNICIPALITY BUYS A RENAULT SPECIALISED GARBAGE TRUCK  
Kira Municipality has today received the first delivery of the newly bought Renault garbage truck bought on locally raised revenue.  
Receiving the delivery of the truck from the supplier the Municipal Mayor, His Worship Julius Mutebi Nsubuga said that purchasing this truck is yet another step in the process of addressing the challenge of garbage in the Municipality following the purchase of the garbage land in Busukuma Division (Nansana Municipality) where a garbage sorting plant is to be established.
"Private companies and individuals have been collecting garbage but some have been doing it unprofessionally especially in the slum area but having received our own specialized truck we are going to try our best to bridge the gaps" he said 
Mr.Yiga Benon, the Municipal Town clerk said that the Municipality is having a short term plan of buying three trucks of the same type and capacity.
"Using the little local revenue we collect we have managed to completely have this one cleared and for the other two the process is ongoing. Our target is to have a specialized truck of the same type at each Division so that we can have a relief given the fact that even private waste managers are also on ground" said Yiga.
David Sekaboga the Municipal Health Inspector said that the bought truck has the capacity of compacting over seven metric tons of garbage.
"Garbage problem is everywhere in cities and as Kira we have been having a challenge of having garbage management fully in the hands of the private companies and individuals: our land for garbage is there but not yet ready prepared to be used and so we to use KCCA's Kiteezi site for a while as we build our own standard plant to recycle and process the wastes collected in the Municipality" said Sekaboga.