Kira to eat big from the World Bank- GKMA program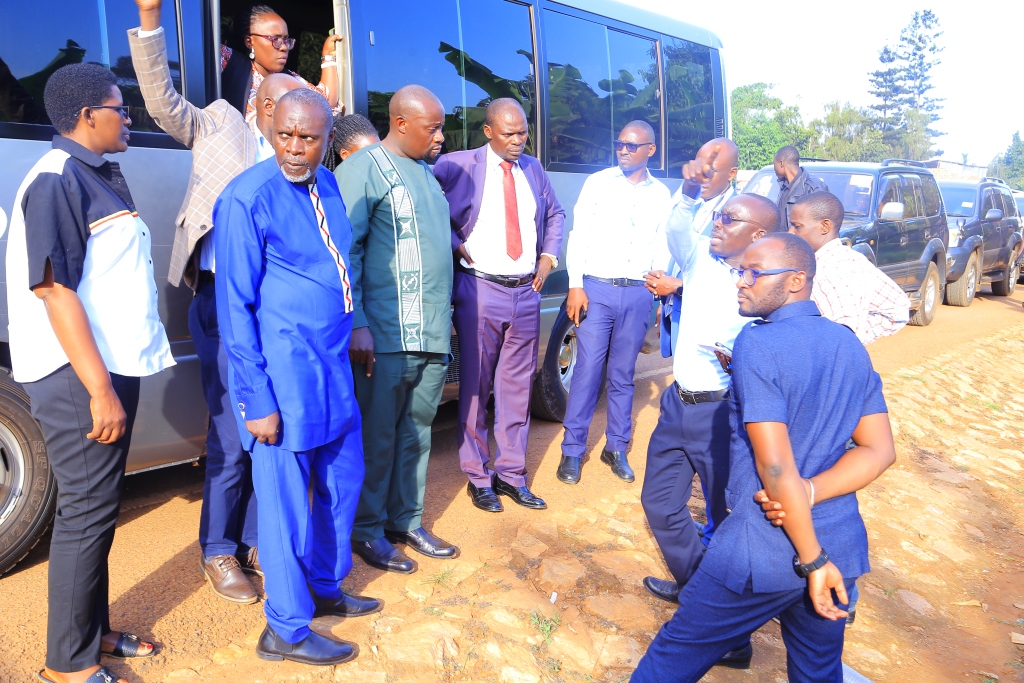 KIRA TO EAT BIG FROM THE GKMA PROGRAM
Parliament inspects for the Municipal's readiness for the program
Kira Municipal Council is standing higher chances of eating bigger from the GKMA program which is aiming at improving the road network in the area. This has been reached on by the Parliamentary Committee on National Economy and Ministry of Kampala Capital City and Metropolitan Affairs engagement with Kira Municipal Council team to assess the Municipal readiness for World Bank Funding under the GKMA program.
Parliamentary Committee led by its Chairperson Hon. Ikojo John Bosco and State Minister for Kampala Hon. Kabuye Kyofatogabye leading the Kampala team after having a field inspection to monitor the roads earmarked for upgrading under the World Bank funding program agreed that the Municipality is more than ready for the program since it is meeting all the requirements and on top of that there is a genuine need for construction to boost local revenue collection.
After a lengthy engagement at the Council headquarters from where presentations were made teams had field inspections on several roads including Mamerito-Kito- Nsasa road, Kiwatule –Kira –Kiwologoma and Najeera-Kungu- Ktyanja.
' The resources  available can cover 32km but according to the terms and condition of the program we stand chances for more funds provided community members are willing to freely give us more land as they have been doing for the width of the road network needed reason being there are no compensation arrangements in this project. On top of that, the general performance and time factor are also to be considered. If we perform well and in time there are possibilities of transferring resources from the poorly performing local governments to the better performers or extending the program for more fund provision' said Joloba.
According to Minister Kabuye, the program for Greater Kampala Metropolitan Area focus is to be put on the road network, garbage management and special attention will be given to Kira Municipality being the home of the Uganda Martyrs Museum which hosts millions of people annually and its strategic location. 'Looking at the development within Kira, the population and the pilgrims who visits the area we need to have the road network given attention and at the end leaving alone the beauty more revenue will be collected due to the booming business in the area. If the Municipal team performs to the expectations and funds are available as planned we need to at least ensure that Kira get her 16 roads totalling 106km submitted for construction worked on with proper drainage system and street lights' said Kyofatogabye
Following the inspection exercise Hon. Ikojo John Bosco and other Committee members said that acceding to what they found on ground Kira Municipality is already at a take off stage and only delayed by the release of funds.  He added that unlike other prospective beneficiaries Kira is more prepared with road designs already developed, community members already engaged to give right on the way for construction.