Kira Christmas package for the elderly and people with special abilities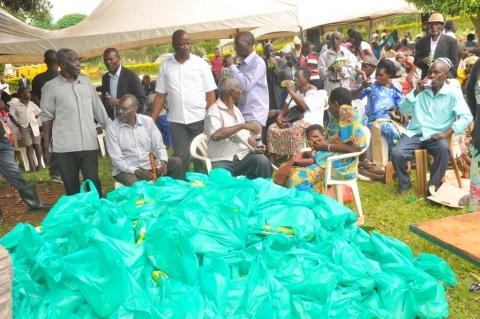 Christmas sharing with the elderly and people with special abilities
Kira Municipal Council has today gathered a number of elderly and people with special ability at the Municipal to have then given some food stuffs for Christmas celebrations. Held at the Municipal headquarters such event has become annual with the aim of providing to those who may be disadvantaged and unable of having the joy of Christmas due to financial inabilities.
Addressing the gathering the Mayor Kira Municipality His Worship Julius Mutebi Nsubuga said that the Municipal Council may not be in position to provide the elderly and those with special abilities on a regular basis but it was decided that every end of year as the entire world is celebrating the festive season such people be brought together for the sign of brotherhood/sisterhood.
"It is a West African saying that, the man calling fellow men on a village to meet at his place in the evening to see the moon does not mean that those men cannot see the moon when in their compounds but it's rather a sign of togetherness which brings all of them in place and share a cup of wine. Inviting you to come here today does not mean that you cannot afford to buy these small items we are giving out but it is to enable you meet others so that you can get courage that you are not alone in that state of life, get to share ideas and experience with others and so many other things which may either change your mindset or the attitude of the other you are sharing with" he said.
 That event is organized annually by the Municipal council with the support of different individuals, Institutions and companies and Partners such as Uganda National Bureau of Stands which give in pet cash and food items such as sugar, rice beans, cocking oil, and soap among others.