Kira youth groups get funds for empowerment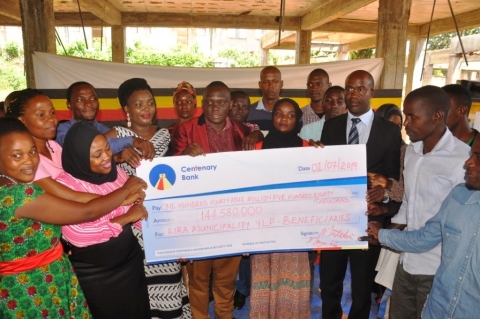 EMPOWERING THE YOUTH:17 GROUPS GET 144M
Seventeen youth groups from the three divisions of Namugongo, Kira and Bweyogerere have today received 144 million shillings under the Youth Livelihood Program to enable them implement and boost up their businesses on an event that has taken place at the municipal headquarters.
Addressing beneficiaries the Deputy Town Clerk Mr. Basamula Muganga said that, "the money is given out to enable you boost your business but not to ruin your marriage. Some of will reach a point of relocating to other areas and leave your families in a move to avoid paying back, that's not what we wish to see".
Handing over the dummy checques, His Worship the Mayor Julius Mutebi Nsubuga advised the beneficiaries to avoid excitement. "Some of you have been in business for a while and so no need of running wild with that little amount to turn against group members. Whence u use this money appropriately it will give a chance for many other youths to benefit too since this is a revolving fund" he said.
By distribution two groups were from Namugongo division, Nine from Bweyogerere and six from Kira Division
In attendance were the Chairperson Namugongo Division Mr. Mukulu Ernest Gaster Mukasa, Vice Chair Person Kira Division, Mr. Mugoha Pafrus and Municipal Councilors.